Talk & Save's comparison service summarizes your long distance calls.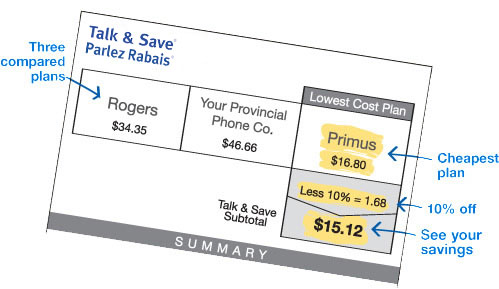 With a simple statement Talk & Save calculates, compares and selects the lowest cost plan from three popular long distance plans offered by Rogers, Primus and your Provincial Phone Company3. And you can also replace one of the plans with your own or a similar one!

You're never locked into any one of the three plans so each month you'll benefit from the one that best meets your needs. As your calling pattern changes, the plan we select for you will reflect that change, ensuring that you always get the lowest of the three plans, less an additional 10% discount!
Each month you will receive a Talk & Save statement detailing all your calls and savings.

Unlike the actual plans from Primus, Rogers and the Provincial telephone companies, if you don't make long distance calls in a given month, you will not receive a statement and there won't be any charges on your account.

Saving on long distance has never been so simple!